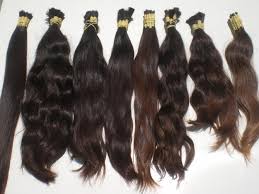 Getting married in the Orthodox Jewish community is often synonymous with buying a wig. Married women have a mitzva to cover their hair and that is usually done by wearing a wig.
Walking in to Orna's Wig Salon on Reisterstown Road, one is immediately faced with an entire wall covered with wigs. Dark wigs, blond wigs, and all shades in between. Curly wigs, long wigs, wavy wigs, and short wigs. How are all these wigs made? Are they made by hand, by machine, here in Baltimore or overseas?
Orna has her own line of wigs called "Orna Wigs," and she is also an expert in wig repair. I asked her to explain how the hair on a wig goes from the head of a woman in Brazil to the head of a woman here in Baltimore.
Read More:The Process of Making Wigs