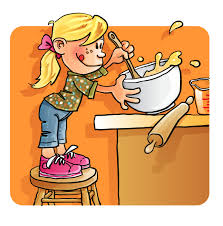 Having little helpers in the kitchen means spending quality time with little ones while teaching them so many things. There's math – if half a cup is called for, but I can only find the one-cup measuring cup, how much do we need? How do we double a recipe, etc.? There's real-life responsibility – oops, I dropped the peanuts all over the floor, how do we clean that up? There's real-life problem solving – I don't have any black beans, what can we do? (Use red beans? Leave it out? Ask a neighbor?) And one of the most important lessons in my mind – hey, I really like you and want to spend some time with you (and I think you're clever and important and can help me figure this stuff out). (Disclaimer: there might be a tad bit more of a mess to clean up.)
Have your children do whatever they are capable of. Can they handle a knife? Let them dice the onions and red peppers. Can they open cans? Have them open the can of beans and then let them rinse off the beans in the sink (a strainer is perfect for this job). Are they at the point where they can use the stove? Let them heat up the broccoli. If not, let them add the ingredients to the pan. Can they use the microwave? Hooray – let them do the potatoes. Studies have shown that the more involved kids are in cooking the food, the more they're likely to eat it!
Stuffed Baked Potatoes
4 medium russet potatoes
2 T. butter
1/4 c. diced onions
1/4 c. diced red peppers
1 16-oz. bag frozen Bodek broccoli
1/2 c. black beans (drained and rinsed)
1 tsp. salt
1/4 tsp. pepper
1/2 c. shredded cheese
1/2 c. sour cream
Prick the potatoes several times with a fork (this prevents the potato from exploding). Microwave on high for 8-12 minutes (until a fork will easily pierce the potato). Or you can bake in the oven at 375 degrees for about 1 hour.
Meanwhile, in a medium pan, place the butter, onions, and red pepper and sauté for 5 minutes or until soft. Add broccoli, beans, salt, and pepper and stir until hot over medium heat. (If certain children won't eat all of these items, prepare each separately, so that they can add the onions, red pepper, or broccoli as they see fit.)
Have your children split the potatoes (there will be steam trapped in the potatoes, so be careful when cutting it in half). Then they can add 1/4 of the broccoli mixture to each potato. Then have them sprinkle the shredded cheese on top and add a dollop of sour cream to each one. Serves 4.
Sesame Noodles
1/2 c. smooth peanut butter
2 tsp. minced garlic
1/2 c. soy sauce
1/2 c. sugar (optional)
2 T. toasted sesame oil
1 green pepper, diced
1 red pepper, diced
1 c. broccoli, diced cucumbers, or grated carrots (optional)
1 lb. thin spaghetti, cooked and drained (angel hair or fettuccini will also work)
1 green onion, sliced thin
Have your child blend the peanut butter, garlic, soy sauce, sugar, and sesame oil with an immersion blender until smooth. (An immersion blender is easy to use – especially if you have a tall container to place the ingredients in. My rule is that children may not turn on the immersion blender unless it is immersed in the item they are blending. You can take out the plug when the blender is not in use.)
Add the peppers and broccoli (if they'll eat it), or whatever vegetables your children prefer, such as diced cucumbers or grated carrots.
Have them add the sauce to the pasta and toss. Using a couple of forks, plate the pasta in some bowls. Let them add the green onion slices as garnish. And have them wipe the rims of the bowls so the bowls look nice and clean. They can even pretend to be waiters and bring the bowls to the table (my kids like doing this).
I find my kids can do everything but draining the boiling water from the pasta in this dish. Serves 6-8.
"Magic" Chocolate Shell
This is a fun dip and can be used to launch a science experiment. Compare and contrast chocolate syrup with this syrup (put both on ice cream or even an ice cube and watch what they do). Why does this mixture harden and chocolate syrup doesn't? How long does it take to harden? What will happen if we put this mixture in the refrigerator? It turns out, and hold onto your hats folks, that coconut oil melts at approximately 76 degrees Fahrenheit and above. And below 76 degrees? It turns into a solid! Thus, the syrup will turn hard if placed on something colder than 76 degrees, so it will harden on anything refrigerated...
1/2 lb. dark chocolate
1 c. coconut oil (refined is best)
6 T. light corn syrup
Combine chocolate, oil, and corn syrup in a microwave-safe bowl. Microwave on half power in 15-second bursts, stirring with a spoon in between each burst, 3 to 4 times, until chocolate is completely melted. If you're a peanut butter fan, you can add 1/3 c. peanut butter to this mixture before you put it in the microwave, and you'll have Chocolate Peanut Butter Magic Shell!
Transfer chocolate dip to a squeeze bottle or ketchup container (be sure to re-label it!) and store at room temperature, shaking the syrup if it separates. If you put it in the fridge, it will harden, and you'll have to melt it again before use.
For best results, let dip harden on ice cream for 30 seconds before eating. Serves 16.
Strawberry Banana Frozen Dessert
This is a nice and healthy dessert, and another one the kids can do themselves with an immersion blender. If you have a favorite pie crust, you can use it here. If you use a chocolate pie crust, it offers a nice contrast to the pink color.
4 ripe bananas
1 1/2 cups strawberries
1/2 c. sugar (optional)
1 T. lemon juice
1 9-inch pie crust
9 fresh strawberries, halved and hulled (for garnish)
"Magic" Chocolate Shell, recipe above (for garnish)
1/4 c. candied pecans (for garnish)
Blend the bananas, strawberries, sugar, and lemon juice, then pour into the pie crust. Freeze. Cut the pie into slices for serving. Before serving, zigzag the Magic Shell on top of each slice and add fresh strawberries for garnish (half a strawberry per slice). If you put the strawberry on top of the Magic Shell, it will "freeze" in place. Sprinkle candied pecans on top. Serves 8.
Chocolate-Covered Frozen Bananas
An easy frozen treat that kids can do themselves. This can be done with strawberries, kiwi, grapes, or any fruit that you're willing to freeze.
4 firm and ripe bananas, cut in half crosswise
8 wooden popsicle sticks (or craft sticks)
8 oz. Magic Shell, recipe above
3 T. chopped peanuts, sprinkles, or whatever topping you prefer
Place the cut bananas on a baking sheet lined with parchment paper. Cover with plastic wrap. Freeze for about 3 hours. (If your children keep opening the freezer to check if they're frozen, it takes longer!) Dip the bananas into the Magic Shell to coat (if you place the Magic Shell into a tall, thin container, it's easier to dip). Then immediately sprinkle with your topping(s) of choice. Serve immediately or return to freezer until ready to eat. Serves 8.
Tuna and Egg Salad Wraps
4 10-inch tortillas
1/2 lb. egg salad (recipe below)
1/2 lb. tuna salad (recipe below)
1/2 c. sliced cucumbers
1/2 c. diced tomatoes
1/2 c. lettuce
Give each child a tortilla. If they've never done a wrap before, demonstrate on yours first. It's very similar to a blintz. Put the stuffing you have chosen in the middle to bottom third of the tortilla. Fold both sides (left and right) over the stuffing, and then roll the whole thing up until it's closed. Cut in half and enjoy. Serves 4.
Egg Salad
8 eggs
1/2 c. mayonnaise
1 tsp. prepared yellow mustard
salt and pepper, to taste
1 stalk celery, diced, or regular onion or green onion (optional)
I got my hard-boiled egg recipe from Julia Child. Add raw, in-the-shell eggs to a pot of cool water. The water should cover the eggs. Heat over medium-to-high heat until boiling. Remove from heat and cover the pot for 13 minutes. Rinse the eggs in cold water (you're trying to cool the eggs as soon as possible, with the goal of preventing the chemical reaction that makes the outside of the yolk turn green – which is perfectly harmless, just ugly). When the eggs are cool, peel them and add the mayonnaise, mustard, salt, and pepper, and celery or onion if desired. Serves about 4.
Tuna Salad
2 5-oz. cans of tuna in water (drained)
4 T. mayonnaise
1 stalk celery, diced
1 T. sweet relish (optional)
salt and pepper, to taste
Add mayonnaise, celery, relish, salt, and pepper to the tuna and mix. Serves about 4.
Bracha Shor is the owner and executive chef of Sweet and Good Catering. She may be reached at bshor@sweetandgoodcatering.com. Questions and comments are welcome.