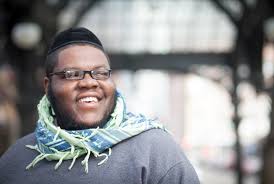 My first introduction to Nissim Black was via my then-two-year-old grandson, Asher Zelig Chaim. Little did either of us imagine that I would one day have the privilege of not only meeting but also interviewing the star who sang little Asher's favorite song, "Hashem Melech." I caught up with Nissim in Tov Pizza just a day before his recent local appearance for the Unity Havdalah Concert of the Baltimore Shabbat Project.
Nissim's rise to stardom began way before he found his way to Yiddishkeit. In 2006, when he released his first album, "The Cause and Effect," he performed under the name D. Black – a shortened version of his birth name, Damian Jamohl Black. The rapper and producer from Seattle, Washington, released his second album, "Ali'yah," in 2009, after being featured on a fellow rapper's debut album a year before.
In 2011, Nissim retired from the music industry so he could put all of his energies into converting to Judaism. He returned to the stage in 2012 under his Hebrew name, for an entirely new kind of audience. He still composed and performed original rap lyrics, but in his debut album, "Nissim," and his newest release, "Lemala," they took on a whole new meaning and purpose for Nissim.
From Seattle to Yerushalayim
Nissim traveled in for the Baltimore concert from his home in Yerushalayim, where he lives between the Geula and Mea Shearim neighborhoods. When I asked him what the impetus was for his making aliyah in March 2016, he shared, "My heart was burning with a fire to be in Eretz Yisrael. It was one of those things that I didn't have to think too much about. It was a no-brainer. My heart was set on it from day one."
Noticing Nissim's typical chasidishe garb, I wondered when, exactly, day one was for Nissim. How did this very personable, jovial African-American rapper become interested in Yiddishkeit, let alone in Breslover chasidus?
Nissim satisfied my curiosity: "I was in the rap world, and things were getting very dark. I got into a rap beef with another guy, and it became either his life or my life. I became very scared, and I started calling out to G-d, and at this point, my point of reference was Christianity. A miracle happened. Three days later, the guy called me to say that he did not want to continue the conflict we had between us. After that, I continued praying. My heart was opened, and I started asking very deep questions. I started digging up the root of Christianity and that led me to Judaism."
Nissim met his wife, Adina, when he was only 17 years old. He admits that she was his childhood sweetheart who has kept him "sane." As divine providence would have it, they both decided to convert to Judaism.
"It took a lot of davening, but, baruch Hashem," recalls Nissim, with regard to eventually being on the same conversion "page" as Adina. "I started first, and she thought I was crazy. By then we were already married; we had our non-Jewish wedding in 2008, when I was 20 years old. Shortly after that, I presented her with my newfound ideologies, and she was not very excited since she grew up very Christian her whole life. One day, on her own, she came to me and said that she felt like she had been lied to her entire life."
It was while Nissim was under Rabbi Simon Benzaquen's tutelage – he is the rav of the Sephardic Bikur Holim Congregation in Seattle – that he got rid of all his music, split from the label he partly owned, and became engrossed in the conversion process. And it was Nissim's friend from Seattle's Jewish community, fondly known as "Uncle Rick," who gave the Blacks the support they needed during the conversion process.
"When I moved into Seward Park's Jewish community and we started our conversions – out of everybody, Uncle Rick showed us the most support," says Nissim. "He instantly became my very close friend and encouraged me to get back into music after I retired. He gave me the first push."
The Blacks had an Orthodox marriage ceremony in 2013, following their conversion. The marriage was actually a double ceremony with Nissim's childhood friend from kindergarten, Yosef Brown, and his wife Chana, Adina's sister, who also converted. The two couples converted the same day. And both couples made aliyah. Today, Adina and Chana run a gan in Shaarei Chesed. Yosef travels with Nissim all the time and produced "Fly Away," in addition to a lot of Nissim's songs.
Life in Yerushalayim
When asked about the delicate topic of racism, Nissim says that, although kids will occasionally yell 'kooshi, kooshi," when they see him, he has never experienced actual racism living in Eretz Yisrael.
Nissim and Adina have four children. Their oldest daughter is almost 10, followed by a five-, three-, and two-year-old. They all go to school in the Meah Shearim-Bais Yisrael area. Their daughter attends the Breslov Bais Yaakov, and the boys learn in a Breslover cheder.
"I hid the fact that I was Breslover throughout my geirus and the first year," says Nissim, who was influenced by Breslover Rabbis Shalom Arush and Lazer Brody while still in Seattle. Then I tried to let my hair – or rather, my payos – down," says Nissim, with a chuckle. "I did keep it private, since you don't know how people feel about chasidim. There weren't a lot of chasidim in Seattle. In Eretz Yisrael, people are more open about it, and it is much easier to express yourself."
From Rap to Skullcap
Rap, developed by inner-city African-Americans in the 1970s, may be controversial in the Torah world, but Nissim is not your ordinary rapper. Dressed in chasidishe garb and singing from his heart, he puts a new spin on this musical genre, also known as hip-hop, which features the chanted rhythmic and rhyming lyrics to an instrumental accompaniment.
Now that he has a higher calling in life, Nissim is rechanneling his musical talents to avodas Hashem. "Music is so powerful," he says. "Over the three or four minutes you listen to a song, it begins to control your emotions or the way you behave. I want to be able to make music that will prevent somebody from committing suicide or will give somebody hope, if they need it. I want to give people something that will ultimately bring them closer to Hashem. That is my whole goal with anything in Yiddishkeit."
Nissim admits that it takes him a lot longer now to write his songs, compared to those he composed earlier in his career. "There are a lot of personal prayers going into my songs now," reveals Nissim. "For me, back in the day, when I was writing for the non-Jewish world, I could write a lot easier and a lot faster, because it was just sort of speaking rhyme. Now, because I want to put in so much more emotion into all the songs, it takes me so much more time.
"Now that I see that I can use music as a tool," continues Nissim, "I can't begin to tell you how many stories I have heard from people all over the world, who told me that they stopped listening to non-Jewish music to help them come closer to Hashem. I haven't listened to non-Jewish music in 8 to 10 years.
"I don't know what's going on in the non-Jewish rap world," says Nissim. "I don't know if I'm hitting or missing the mark. So I can at least say that my music is coming from a very pure place. Is that a klal? Is all rap like that, if you are Jewish or not? I can't say that. I look at it merely as a tool to bring people closer to Hashem."
Nissim's only agenda is his desire to see his listeners grow and come closer to Hashem, not the opposite. "I never heard of anybody falling as a result of listening to my music," he comments. "I only heard of people becoming stronger – valuing their Yiddishkeit and who they are even more. I have a lot of support from some rabbanim who have come out against rap. They won't say it publicly, because they probably don't want to give a hechsher to anybody who decides they want to rap, but I think the lev is more than everything. I think it is all about the heart.
"Rap is merely a tool for me," concludes Nissim. "As a kli, I am able to bring people closer to Hashem. Because of that, most of the rabbanim I know at least respect that."