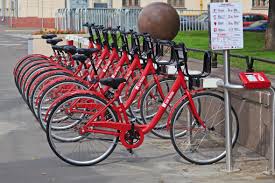 Something new has overtaken Baltimore. Organizations are putting a new kind of 'fun' into fundraising. Once upon a time, a typical fundraiser was a charity tea, a banquet, a Chinese auction, or a heart-rending letter in our mailbox. Today, we are seeing organizations turning to the internet to host "24-hour" all-or-nothing super-fundraisers, as well as using social media of every stripe to spread awareness of the cause. But nothing can beat the "fun" of sports-related events which marry athletic competition with serious dollars.
Two local groups that have successfully taken this route are the Jewish Caring Network (JCN) and Bikur Cholim. The former has been holding 5K races for men and women for the past five years, while the latter jumped in a year later with an annual men's bike-a-thon. Both draw large enthusiastic crowds of all ages and have opened the world of fundraising to a whole new audience.
* * *
On June 4, I ran the JCN Woman's 5K Care Run and Walk along with throngs of other Jewish women and girls from our community. While I've run quite a few races by now, sponsored by various organizations, nothing beats the JCN run. It is one thing to approach running as a sport and to sign up for a race just for the sake of having something to train for. It is another to be doing it for so much more than beating your record or getting into shape.
I've lived in Baltimore my entire life. Amazingly, our community is growing in number by the year. It is so large that I don't recognize half the people I see at Seven Mile Market, at shiurim, and at events like Bais Yaakov's mall night. The JCN race was no exception. I saw many familiar faces whose names I don't know, along with many new faces and was amazed by how this event brought together so many people from throughout our community.
Now, anyone who knows me well knows that I am quite a champion for Baltimore. We live in a seriously awesome community. Our achdus (unity) in banding together for a tehilim gathering, the Shabbos Project, or a tzedaka need is incredible. Everyone is there for each other. This was very apparent at the Baltimore Zoo the morning of the JCN race.
Those who wanted to run ran! Those who wanted to walk walked! Everyone went at her own pace. Runners sprinted past, while others chose to talk and laugh. Volunteers stationed at regular intervals volunteers cheered people on and handed out water.
When I later asked Adina Burstyn, owner of Adina B. Cosmetics, a sponsor of the race, what she thought of this new "racing trend," she said, "I think it's an awesome idea. It gets all kinds of people from different age groups together. And if you don't want to run, you can volunteer like me. It's fun, and it also raises awareness for the JCN. I am proud to be part of it."
* * *
After everyone crossed the finish line, where a crowd of people stood waiting to give support and wave pompoms in congratulations, it was time to talk about why we all came out to the zoo that day. The point of the run is not the race. It is the fundraising. With the 3.1 miles completed, we settled down to hear the honorees.
First, the top three fundraisers from the high school, middle school, and elementary school categories were called up for trophies. It impressed me so much that girls younger than I am came up to accept their well-deserved awards. The message was clear: Anyone is able to raise money if she shows determination and puts in the effort.
Next, the top three adult fundraisers came up to receive their trophies. What really warmed my heart was to witness everyone cheering and clapping for those who were not on their own team. I love that our community was able to create a competition to spur each other on, not to bring anyone else down. That was one of my biggest take-aways from the race.
I asked Rochel Ziman, captain of the top fundraising team, Team Bonnie, why she felt so passionately about this organization. "I love being part of the JCN family. I want to help spread awareness about this vital organization in our community. They help so many but do it in privacy. You wouldn't know that someone from your shul or your neighbor is being helped."
* * *
At the JCN Men's race on June 25, the atmosphere was cheerful and buzzing with energy. This time, I was there as a volunteer, not a runner. While the women's race was a beautiful demonstration of the power of the female spirit, at the men's race I got to see a different demonstration of power – that of family.
I asked volunteer Diana Baron how she felt about the "racing trend" as an effective fundraiser, and what it accomplished other than bringing in money. She said, "I think what's really cool is that it creates achdus in all ages. You have little kids who want to do it and are so excited, and it makes them happy. Also, there was this one child who was just niftar, and the race was a way for the children to deal with their grief. You have the little kids who are doing it and the older kids, the woman and the men. And it's just such a beautiful thing that everyone can be a part of."
The Men's Race definitely gave whole families the opportunity to be involved with helping the JCN. I saw young girls wearing volunteer vests bigger than they are running around with their faces painted, so excited to be a real part of the event. Men ran alongside their young sons. Some men were pushing strollers.
An adorable idea that created special delight in many little ones was the "Super Hero 100 Yard Dash." Little boys (I even saw a little girl) were each given a Superman cape, a race bib, and a superhero mask and sent off to run a short sprint. During the awards ceremony at the end of the race, each of these little heroes was given a medal for participating. I watched one little guy proudly admiring the one around his neck.
When the race was over, everyone sat down to an amazing barbeque. The top fundraisers (who raised at least $360) were given VIP bracelets and special tickets enabling them to enjoy a lavishly catered meal that included steaks, barbecued chicken, hot dogs, hamburgers, and an array of salads, along with a Rita's Ices stand. Families sat together and listened as the biggest fundraisers and the fastest runners were awarded with metals and trophies.
Diana Baron told me just how she feels at "that time of year," when it's time to sign up and start helping with the races: "It's so exciting. We're all anticipating it. JCN is an amazing organization. We should all be so thankful that we have such an organization. And it's fun! I'm just so happy that I can be a part of it."
Altogether, the JCN 5K woman's race brought in almost $130,000, while the men's race brought in $105,000. Both races set new fundraising records. The JCN is a pillar in our community, an organization that goes above and beyond to help the families of those suffering from life-threatening illnesses. Several years ago, my family was one of those that benefited from the JCN's tremendous acts of chesed. I want to thank all who donated for making it possible for the Jewish Caring Network to keep doing what it does.
I may not know everyone in our beautiful community, but I can say that I am proud to be a Baltimorean.
Focus on Bikur Cholim's Men's Bike-a-Thon
A Conversation with Mrs. Rochelle Goldberg
by Emma Michelsohn
This year's fourth Men's Bike-a-Thon and Family Barbeque Event, sponsored by Bikur Cholim, will take place on August 13. Riders, who range in age from 10 to 79, will meet at Beth Tfiloh, from where they will set off on one of three routes: 10, 25, or 50 miles. This year, the event will include a new Junior Bike Challenge for children, three to seven years old, with prizes.
Mrs. Goldberg, what kind of success have you had in past years?
Our first year we brought in $90,000. Last year we increased that to $140,000!
Do you see room in the community for multiple fundraising events?
Yes, I do. Baltimore is such a great town, and everyone is ready to help and work together. Raising money for worthy organizations seems to be a priority in this town. Even people with limited funds give tzedaka.
Do you think people enjoy the athletic aspect?
They love it! The air is palpable with excitement!
How did Bikur Cholim get started doing this?
A group of young men – Yaakov Berkowitz, Noam Shiman, Tzvi Feigenbaum, Mordechai Gottlieb, Yaakov Feinstein, Jeff Schwartz, and Ahron Newman – had this brainchild and took off with the idea of a men's bike-a-thon with three routes through scenic Maryland.
Who is in charge of the Bike-a-Thon?
I am co-chair, along with Mordechai Gottlieb. During the year, I am fortunate enough to serve on Bikur Cholim's executive board as well. This year's Bike-a-Thon committee is composed of Yaakov Berkowitz, Tzvi Feigenbaum, Noam Shiman, and Liz Rothstein.
How do you think our community maintains their enthusiasm for these types of fundraisers?
Again, Baltimore is a remarkable community. But I think that since the events are outdoors, competitive, and athletic, in the sunshine after our long winters, everyone is so happy to spend the day doing something that is good for them while raising money for something important.
Can you give Baltimore an idea of just how helpful their support and donations are? What kind of programs and services will Bikur Cholim be able to maintain/develop with the proceeds?
We deliver thousands of kosher meals to patients and their families both in the hospital and at home. We provide meals for the home-bound, postpartum families, and family members of hospitalized patients who cannot manage for themselves.
We offer other services such as birth-night sitters, Tehilim squad, medical referrals, hospital advocacy, and home and hospital respite.
We arrange for volunteers to visit hospitalized patients. In addition, we provide home-bound visiting for members of the community and in local nursing homes.
Additionally, we provide rides for family members to and from the hospital, along with transportation for those in need of rehabilitation, medical appointments, or other outpatient services.
We have beautiful facilities that provide both kosher food and a quiet restful place for family members of hospitalized patients. Kosher pantries are located in Sinai, Johns Hopkins, and UMBC hospitals.
We lend a variety of medical equipment, such as wheelchairs, walkers, canes, crutches, shower/tub chairs, and commodes. We also have breast pumps, when needed for medical emergencies.
We also offer beautifully renovated, fully-stocked, accommodations in the Jewish community and near hospitals. Bikur Cholim has two fully-furnished apartments in the heart of the community and within the Eruv. In addition, Bikur Cholim can help with needed Shabbos housing near Sinai and Johns Hopkins.
Over 400 volunteers work for Bikur Cholim, but money collected at these events pays for the kosher meals, medical equipment, Shabbos drivers, food in the pantries, and many other things.
Here are some of our stats from past years:
12,612 visits to hospital patients
6,109 meals delivered to hospitals
2,637 meals prepared and delivered to families at home
2,500 rides to medical appointments
148 pieces of free loan medical equipment
Do you have a message for our community about what else they can do to help?
Yes, of course. Bikur Cholim needs your very generous donations, but we also need volunteers. As the community grows, so does the need for medical assistance. Please visit our website, BaltimoreBikurCholim.org, and "get involved." Nothing feels as good as giving!
Thank you so much. I wish you much hatzlacha at this year's event.