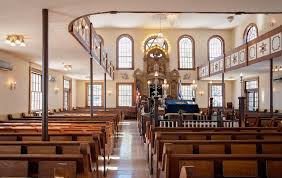 Shortly after I turned my computer on to begin this article on how people choose their shul, a headline leaped out at me: "Ivanka Trump and Jared Kushner Pick $5.5M Home – and Chabad Synagogue – in Washington." Is it true? Was their purchase of the magnificent six-bedroom home due to its location, a mere seven-minute walk from TheSHUL, led by Rabbi Levi Shemtov? While "SHIPPA (Shul HIPPA) laws" preclude confirmation of the reason for their buying decision, I concur with the article's author's opinion that it was indeed due to the shul. (That the house happens to be only a couple blocks away from the Obamas' new home appears not to have been a factor!)
So, readers, how did you choose? Did you buy your home because it was close to the shul you wanted to go to, or did you choose your shul because it was close to your home? Do you daven where you do because of the dues, pews, booze, or shmooze (or lack therof)? One of the above, some of the above, all of the above, or none of the above? Let's find out what just a few of our neighbors had to say about the shul they attend on Shabbos and why.
In Rain, Sleet, and Snow, to Shomrei She Goes
When Dr. Chana Feldman's son, Avi, and his family moved back to Baltimore from New York, he was looking for an early morning Shabbos minyan and tried the 7 a.m. minyan at Shomrei Emunah.
Chana, who also prefers to daven earlier than her husband Yona's Agudath Israel of Greenspring start time, began meeting her son at Shomrei and going there every week. She has been making the 10-minute walk under various conditions – rain, sleet, snow, high humidity, and pitch black – for over six years. "Our son has since moved to another neighborhood and put together his own shteibl with other men in his area," continues Chana. "Even though he has invited me to his new location, I preferred to continue at Shomrei because of the atmosphere in the women's section."
Chana says that there is an average of eight to ten women who attend every week, leaving plenty of room for everyone to spread out in the main shul. She has made it a point to meet each of the "regulars" after shul and know all their names.
"No one talks," she says. "We are all there to engage in serious davening. I find it very peaceful and conducive to kavana and self-reflection. When Rabbi Marwick speaks for the allotted seven minutes, it's concise and to the point, and it feels like he is speaking directly to me. After the minyan, I walk to my son's house, where we have a kiddush and I play games with my grandchildren until it is time to go home for lunch with my husband and family."
The Shul He Grew Up In
Ari Weiss grew up davening at Rabbi Jonathan Seidemann's shul, Kehilath B'nai Torah, which his father Fred Weiss helped found. He enjoyed davening at the shul so much that, after he got married and moved back to Baltimore, he continued to daven there. Although the Weiss children are a little too young to be regular shul goers, Ari's wife, Michal, served as a past member of the N'shei presidium.
Ari enjoys the shul's just-about-weekly, sit-down Shabbos kiddush – complete with singing and a dvar Torah from one of the members – in addition to celebrating the approximately 15 bar mitzvas a year that it hosts. Other shul perks, he notes, are a Shabbos hashkama minyan, a vibrant morning kollel, three daily Daf Yomi shiurim, a weekday night seder led by the dynamic Rabbi Shlomo Weiss, and a monthly Shabbos teen minyan.
"The davening on Shabbos and Yom Tov is beautiful with a lineup of all-star baalei tefila," says Ari, "and the Rav's drashas are very meaningful and enjoyable, especially the story at the end of every speech. Rabbi Seidemann is very personable," shares Ari, who writes the shul's weekly bulletin. "When there is a simcha in shul, the Rav speaks incredibly well about the family and genuinely shares their value to the shul and to the broader community."
Fulfilling Spiritual Needs at Ner Tamid
Adam and Devorah Miller belong to Ner Tamid Congregation, a 10-minute walk from their home. They have been affiliated with the shul for about a year and a half. They participate in the shul's learning programs and events and are planning to become more involved; perhaps in the future they will join a committee.
"We like the friendly atmosphere," says Devorah. "It has this nice vibe from the moment you walk in. The children (ages two and nine) have groups they can attend, with kids who have become their friends. There is a kiddush every week, which is nice, and a great way to meet other members. Rabbi and Rebbetzin Motzen are amazing. They inspire and lead the shul in a way that fosters friendship and personal and spiritual growth."
"There are many learning opportunities every week for all members," adds Adam. "Rabbi Motzen's speech is always meaningful and current; he is an excellent speaker and even has a great sense of humor. The youth group activities outside of shul are also a great way for the kids to connect and make friends. And the young family events have allowed us to get to know other families, some of which have become our close friends."
Also housed in Ner Tamid is Kehilas Derech Chaim, under the tutelage of Rabbi Pinchas Gross. Moshe* has been affiliated with this shul for about two-and-a-half years. Although it is only a seven- to eight-minute walk for Moshe, that is not the only reason he has decided to make it his go-to Shabbos shul.
"I like the oilam that davens there; it's more of a young crowd," says Moshe. "There is a good balance of people who are bnei Torah who are not 'too stiff,' and it has more of a relaxed atmosphere. The Rav is a tremendous talmid chacham, who offers a lot to people who want to keep striving in learning. He is not overbearing at all and allows people to have their own space to think. We have a kiddush following davening every week, where the Rav says a geshmakte shtickel Torah. We have wonderful mesibos and other shul events together and enjoy the camaraderie."
Reaching Great Heights on Park Heights
Musia Delman (formerly Bibliowitz) has been a member of Bnai Jacob Shaarei Zion Congregation for over 15 years.
"The shul has become my extended family, an integral part of my life, and a place where I have blossomed spiritually and have deepened and intensified my connection to the Ribono Shel Olam," says Musia. "Through their warmth, regal character, and selfless devotion, Rabbi Moshe Hauer and Rebbetzin Mindi Hauer have transformed the shul into a vibrant haven of Torah and chesed. I am proud of the tremendous contribution that the shul continually makes to the Baltimore community and to Israel."
Musia feels that her connection and involvement with Bnai Jacob Shaarei Zion is the result of total and complete hashgacha pratis (Divine Providence) every step of the way. The fact that she has the zechus to live right across the street from the shul, she says, is clearly the Yad Hashem.
"Hashem has given me many opportunities to do His avodat hakodesh through the shul – whether by being involved in organizing the Shoshana Feldman Memorial Shiur on Shabbos afternoon or hosting beautiful, warm and "heimish" Shabbos meals for seniors, singles, and empty-nesters.
"To have Rabbi Moshe Hauer as my Rav is a tremendous privilege; he is completely and totally devoted to the shul, non-stop," continues Musia. "The Rav connects all of us with Eretz Yisrael and Hakadosh Baruch Hu, and our shul activities are permeated with passionate commitment to ahavas Yisrael and ahavas Torah. His shiurim are fascinating and engaging, and I feel that my thoughts and actions are elevated after each shiur. What a bracha!"
A Lifelong Journey at Moses Montefiore
Neil Smuckler walks four miles, round trip, to Moses Montefiore Anshe Emunah Congregation, although there are numerous other shuls much closer to his condo. As a CPA who works in the international tax area for the U.S. Treasury and is an adjunct professor at Towson University, he feels that his shul is a good fit for meeting other singles and professionals from all walks of life.
"Rabbi Yerachmiel Shapiro is a warm, sensitive, and caring individual, and is accepting of where you are religiously," shares Neil. "The congregation is very warm and friendly to all people who walk in the door; it is a shul that is not judgmental and very open and welcoming to the community."
Neil also enjoys the fact that many young families are joining the shul and that the Shabbat activities are led each week by Assistant Rabbi Joel Dinin. In addition to making the long Shabbos walk to his beloved shul, Neil now attends its services a couple evenings a week, learns Talmud with Rabbi Shapiro twice a week, and studies halacha with Rabbi Dinin. Neil has served on the shul's board of directors and is a past treasurer as well.
"Moses Montefiore is like a second family, with warm and loving Rabbis and congregants who make it fun to attend services on Shabbos," says Neil. "Rabbi Shapiro's sermons are thought-provoking and bring the meaning of the Torah to everyday life.
"My family has been a member of the shul for over 40 years," Neil reminisces. "I remember going to Hebrew school three times a week. I would take the bus from public school two days a week, and my parents would take me on Sunday. The shul has grown, and throughout my life, my religious observance has grown, too. I am now shomer Shabbos, thanks to Rabbi Shapiro and Rabbi Dinin."
*fictitious name
SIDEBAR
Why They Go Where They Go….or Went!
"I am very happy with our new shul, Ohel Moshe. The davening is beautiful and there is silence in the shul. The Rav gives a beautiful drasha, people smile at you, and the best of all is the YAH club, which is for people over 50 years old. We have had melava malkas, get-togethers, a meal at the shul… it is very exciting to be with people of our own age." (Janine Chapman)
"As a girl, shul helps me stay connected to tefila, a tzibur, and community. After a full week of work, it's always refreshing to get a dose of ruchnius while davening along with a tzibur. I especially look forward to the various nigunim (tunes) and listen for life lessons and takeaways from the Rav's drasha." (Anonymous)
"I appreciate a shul with no talking during davening, because it definitely creates an atmosphere conducive to davening appropriately. I love when there is a baal tefila who really knows how to daven for the amud; I get into the nigunim and hum along. As Shlomo Carlbach used to say, 'A nigun can take you from where you are to where you want to be!' It helps a lot with a person's kavana. I also enjoy listening to the Rav, who gives an inspirational dvar Torah that you can take home with you. When the other women of the shul are friendly, that makes it pleasant as well." (Anonymous)
"When I go to shul it is not at all for the social aspect. In fact, I am pretty anti-social – I usually leave a little early because I still have to set things up for lunch. I like to go to daven and have more kavana than just davening by myself at home; I also like to hear the Rav's drasha. I can understand how someone would appreciate seeing people and all, but I guess because I work in a frum environment, I get my social interactions that way." (Anonymous)
"When Rabbi Weinreb was Rav of Shomrei, he stressed the importance of women's spirituality and of the power of song in tefila. Shomrei developed with those ideals, and that is what connects me to the shul." (Marcia Bitman)
"I first met Rabbi Shafran at the age of nine (about 50 years ago). He would race with the young boys in the neighborhood (in the Kimberly area off of Old Court Road), and if he won, they would come to shul. I was so inspired by the Rabbi's caring nature that, when I got married I kept a kosher home and started keeping Shabbos. He would always visit me when I was recovering from surgery; he participated in our family simchas – from brisim, bar mitzvas, weddings, and funerals – and watched our children grow. He has an awesome legacy, and we are grateful for his guidance and support, and for the honor to have known him as our Rabbi." (Rabbi Dr. Michael Freedman)